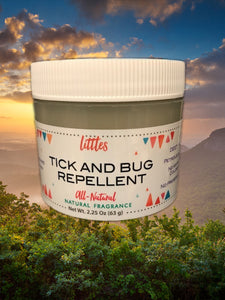 At Littles, we are proud of what goes into our products- and proud of what we leave out. NO synthetic preservatives. NO petroleum. NO harmful irritants. Check our labels. You'll only find easy to pronounce, all-natural ingredients.
INGREDIENTS: Grape seed oil, Cedar wood oil, Shea butter, Cocoa butter, Camphor, Beeswax, Coconut oil, Wheat Germ oil, Neem Extract (or oil), Zinc Oxide, Eucalyptus oil, Mixed tocopherol.
This is our ALL NATURAL, HIGH END INGREDIENTS, PETROLEUM FREE, HARSH CHEMICAL FREE tick and bug repellent. Apply as often as necessary but definitely before going in the woods.
Apply liberally to exposed skin every two hours or as often as needed.
Do not ingest. If ingested, call poison control center or go to nearest hospital or contact your physician. Do not contact with eyes.