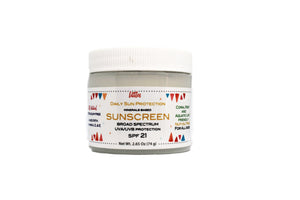 At Littles, we are proud of what goes into our products- and proud of what we leave out. NO synthetic preservatives. NO petroleum. NO harmful irritants. Check our labels. You'll only find easy to pronounce, all-natural ingredients.
Active Ingredients: Zinc Oxide, Titanium Dioxide.
Inactive Ingredients: beeswax, cocoa-butter, shea-butter, avocado oil, organic coconut oil, almond oil, grape seed oil, natural Vitamin E and lavender fragrance.

Apply liberally to exposed skin before going out in the Sun. Apply once or twice a day or as often as necessary
Do not ingest. If ingested, call poison control center or go to nearest hospital or contact your physician. Do not contact with eyes.