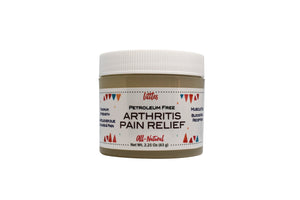 At Littles, we are proud of what goes into our products- and proud of what we leave out. NO synthetic preservatives. NO petroleum. NO harmful irritants. Check our labels. You'll only find easy to pronounce, all-natural ingredients.
Active Ingredients:  Menthol 10%, Capsacin 0.1%/
Inactive Ingredients: Sunflower seed oil, Organic Coconut oil, Camphor, Beeswax, Shea butter, Cocoa butter, Mixed tocopherol
For adults and children, over 18 years of age. Apply only to the affected areas, no more than twice a day. Massage into the painful area until thoroughly absorbed. Use Gloves. If applying without gloves (which we do not recommend), wash hand (s) with soap and water. Wash affected areas with vinegar if burning persists.
For children under 18 years of age, must consult a physician before use. For external use only. Use only as directed. Do not contact with eyes. Do not ingest. Do not apply to cuts, broken or irretated skin. If severe burning occurs, discontinue its use. Wipe it off with a cloth. Wash the affected with soap and water
DO NOT USE IF ALLERGIC TO CAPSAICIN OR CHILLI PEPPERS.